Rock N Rollcab Express / Tool Storage
It's not just tool storage, it's YOUR tool storage, your office and your opportunity to protect your investment.


Snap-on has been helping drive businesses forwards since 1920, producing a wide range of tools that help you work faster, smarter and ultimately more effectively. Like you, we don't have an office, we work from a truck on the open road; driving to garages, forecourts, worksites, fields and any location that mean we can deliver you the tools and service that you require. We understand the challenges that are faced on a day to day basis with this working style and so we have worked hard to ensure that you can have the tool storage of your dreams, because it's not just tool storage, it's YOUR tool storage, your office and why wouldn't you chose to protect your investment in your tools to help you work more effectively.
So why not hop aboard an RnR Truck, as part of the RnR event with your regular franchisee when it comes to your area? It's not just about colour, trim or size, it is your opportunity to get hands on with some seriously cool boxes. You can see all the features that make a Snap-on box stand out from the crowd; Speedraw, Powerdrawer, Lock N Roll and many more! With so many features and combinations, it can be confusing, and how do you really know what you want?
Well the innovative people over at Snap-on HQ have come up with a solution to that. ULTIMATOR. An online sneak preview that allows you to view the series, sizes and features that you can purchase as part of your new tool storage. It doesn't have all the answers, and may lead to more questions, but it gives you the opportunity to start the ball rolling on making your dream tool box a reality.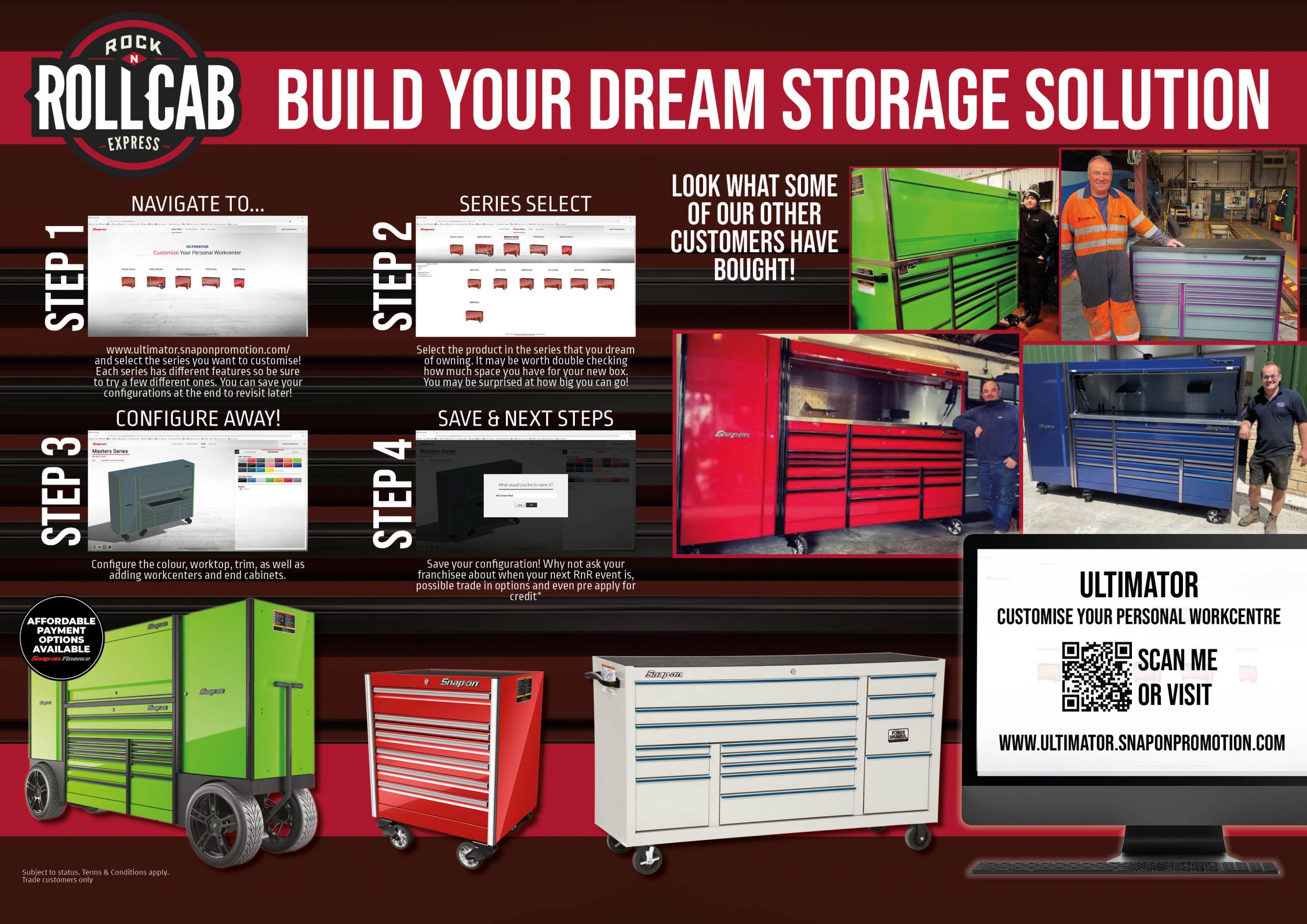 Head over to Ultimator (Click Here) and have a look at what you can do. Once you have come up with an idea, save it as a custom configuration, you may have a couple of ideas, and that's also fine. You can print your configuration out, and the next time you see your franchisee, why not mention it? Let them know what you are thinking – allowing them to make sure the RnR event has the answers that you seek. It may also be a good time to discuss a trade-in should you have any, and pre-apply for credit should you also think that could suit you.
So why not start your journey today with Ultimator, and see what makes your tool storage, your office, the best and most secure option for you and your Snap-on tools.
9 Dec 2023